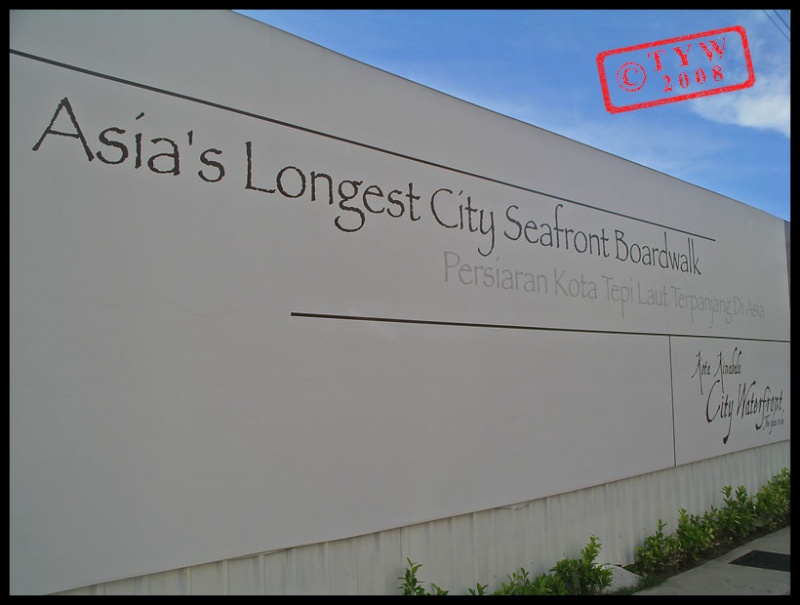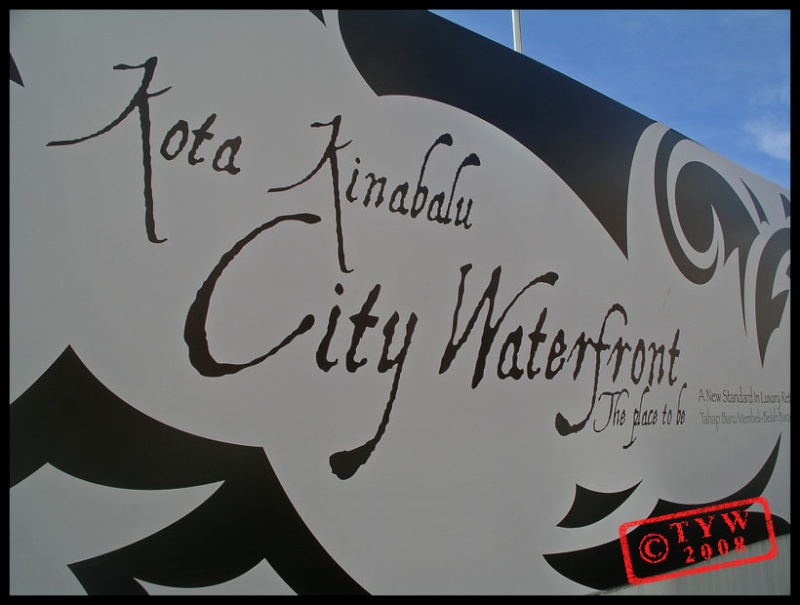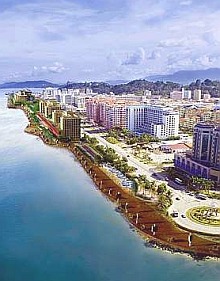 Ambitious plans: Abdullah and his wife Jeanne taking a closer look at models
of buildings planned for the waterfront city project during the SDC launch in
Kota Kinabalu yesterday.
KOTA KINABALU: A total of RM105bil in investments, 900,000 jobs, a waterfront city, tourism projects and a RM600mil new Sabah Railway terminal – these are among the things Sabahans will get when the Sabah Development Corridor (SDC) is completed in 18 years.
In addition, Gross Domestic Product will be up to RM63bil and an annual per capita income will hit RM14,800.
As an immediate measure, Prime Minister Datuk Seri Abdullah Ahmad Badawi announced an extra RM5bil allocation under the Ninth Malaysia Plan to improve infrastructure and to reduce the cost of doing business in the state.
And minutes after Abdullah launched the SDC, 13 MoUs were signed involving international companies from China, the United States and Japan for various projects worth RM16bil.
These developments include housing, condominiums, hotels, the waterfront city, ports, tourism projects and the railway terminal at Tanjung Aru.
The Prime Minister said the SDC was to transform Sabah into an environmentally conscious and modern state and gave an assurance that every aspect of the corridor development would benefit all Sabahans.
"Today we see the Land Below the Wind take a quantum leap to be developed and be prosperous," he said to applause from the crowd at Sapangar Container Port here yesterday.
He outlined five key thrusts of the SDC, which will be to:
> make Sabah the gateway for trade, investment and tourism in the region.
> transform the state into a harmonious and prosperous state regardless of race or religion.
> make the state more technology-savvy to ensure a better quality of life.
> provide job opportunities in the state.
> make Sabah a comfortable state to live in with good quality of life accentuated with diverse cultures, heritage and environment.
Abdullah said that with the realisation of the five key aspects, the face of Sabah would be totally changed under the plans which would not leave out any group or region in the state.
"This is not a daydream. We are not making an empty promise. There is no doubt there is a lot of challenges but we will ensure that the Sabah corridor will be a success," he said.
Under the SDC, the state's west coast would see an industrial sub-corridor and agro-food industry for small and medium enterprises. For the central and northern zones, there will be an agripolitan zone, tourism, highland agriculture and agro-forestry.
The east coast will have industries, marine tourism, integrated agro food industry, agro-biotechnology, and palm oil-based industry zones.
Abdullah said that the overall focus of the SDC was to promote Sabah's inherent strengths that included its location, rich natural resources as well as cultural and biological diversity that can become high potential economic activity.
The sectors being promoted would be agriculture, tourism and logistics, services and manufacturing, he said.
He said they also hoped to bring in more tourists to the state by developing eco-tourism destinations like Sipadan, Danum Valley and Darvel Bay.
Abdullah said the federal government would liberalise the open skies policy for air travel to Sabah.